Ebola Czar Ron Klain Is Not a Doctor. Does it matter?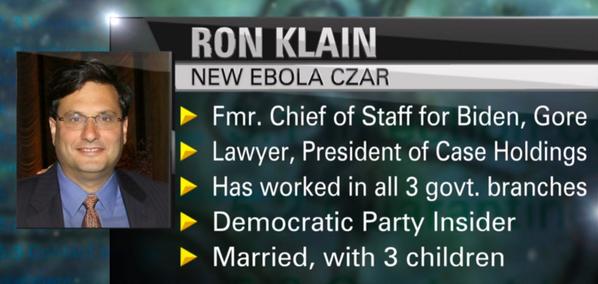 Newly appointed Ebola Czar Ron Klain

The comments sections on every article about the Obama appointee Ron Klain, an attorney and former Chief of Staff to Vice Presidents Al Gore and Joe Biden, as the Ebola Czar are lighting up with comment after comment from folks certain that "once again" this proves the president is incapable of making the right decisions for the good of the country or that…
---
---
I think this is the most #beautiful #butterfly I've ever seen. I know its silly but I feel privileged to see it and it just chilled for several minutes right next to me. Hard to explain… but for me, in those few minutes, nothing else existed, so life was pure #beauty. When it flew away I felt no sadness. Just #gratitude and #joy.
---
I love this song. Always have but my understanding of it has grown over the years, especially in 2014. Sadly most men aspire to live life on their own terms, but fail. The majority do not even come close. I don't have that problem. At 39 years old, I have no doubt at all, not even the slightest reservation, that whether my time left on this spinning rock is 39 seconds or another 39 years, when it is over, I lived up to the only standard that mattered: "I did it my way."
The last 3 verses are my faves. #s 3 and 5 especially:
"Yes, there were times, I'm sure you knew.
When I bit off more than I could chew,
But through it all, when there was doubt,
I ate it up and spit it out.
I faced it all and I stood tall and did it my way.
I've loved, I've laughed and cried
I've had my fill, my share of losing
And now, as tears subside, I find it all so amusing.
To think I did all that,
And may I say, not in a shy way,
"Oh, no, oh, no, not me, I did it my way."
For what is a man, what has he got?
If not himself, then he has naught.
To say the things he truly feels and not the words of one who kneels.
The record shows I took the blows and did it my way!
Yes, it was my way." – Preview it on Path.
---
CLUE 1:
"went to short dogs house,
they was watching Yo MTV
RAPS"
Yo MTV RAPS first aired:
Aug 6th 1988
CLUE 2:
Ice Cubes single "today was a good day" released on:
Feb 23 1993
CLUE 3:
"The Lakers beat the Super
Sonics"
Dates between Yo MTV Raps air date AUGUST 6 1988 and the release…
---
Legendary Actor & Comedian Robin Williams Found Dead In Apparent Suicide
Some of my earliest memories as a child are sitting in the living room with my mom and dad and laughing while watching Mork & Mindy together. Over the years I watched countless films and television episodes that most usually made me laugh, but also, particularly some if his work over the past fifteen years, made me think, recoil, hurt, cry, and feel inspired.

LOS ANGELES, CA – JUNE 22: Actor Robi…
---
Case: Mystery of the disappearing leaves on my #meyer #lemon tree. Status: Fuckin' solved. This is one of three fat ass #caterpillars munching on my tree. Hope they enjoyed their last meal, greedy bastards!
---
"Free like OJ all day!" - #Tupac #2pac #picturemerollin 😏 – Preview it on Path.
---
"I don't want no #Robocop. You spoiled little L.A. girl. Ur just an L.A. girl. U need 2 stop it now. OH! Ur kidding me! That was a good one. Ur 1st good one in a while. U need to stop it now." #yeezy #hollywood days – Preview it on Path.
---
---